Do You Want to Start Working from Home? Here's Everything You Need to Know
Are you tired of the daily commute and office politics? Do you want to have more control over your schedule and work-life balance? If so, working from home may be the perfect solution for you.
It's a solution that is here to stay. In fact, Global Workplace Analytics predicts that after the pandemic, about 25% to 30% of all Americans will be working from home on one or more days per week.
With the rise of technology and flexible work arrangements, more and more people are taking advantage of the benefits of remote work. However, transitioning to a home-based job can be a challenge, and it's important to know what to expect and how to make the most of this opportunity.
In this article, we will provide everything you need to know to start working from home successfully. So, if you're ready to take the leap and start working from home, read on to learn everything you need to know to make it a success.
The benefits of working from home
After a lot of people got a taste of working from home during the pandemic, the benefits of wfh jobs have always been a topic of discussion whenever working remotely is brought up.
It's no surprise that a work from home job comes with several benefits. One of the benefits is increased mental health and less stress that are caused by taking out commuting stress and the lack of flexibility out of the equation.
You also get to save money that you'd otherwise have spent on commuting and lunch. According to Flex Jobs, working from home can save you $6000 or more annually.
Other benefits include having the ability to create your own customizable at-home office, increased productivity and performance, location independence and a better work-life balance.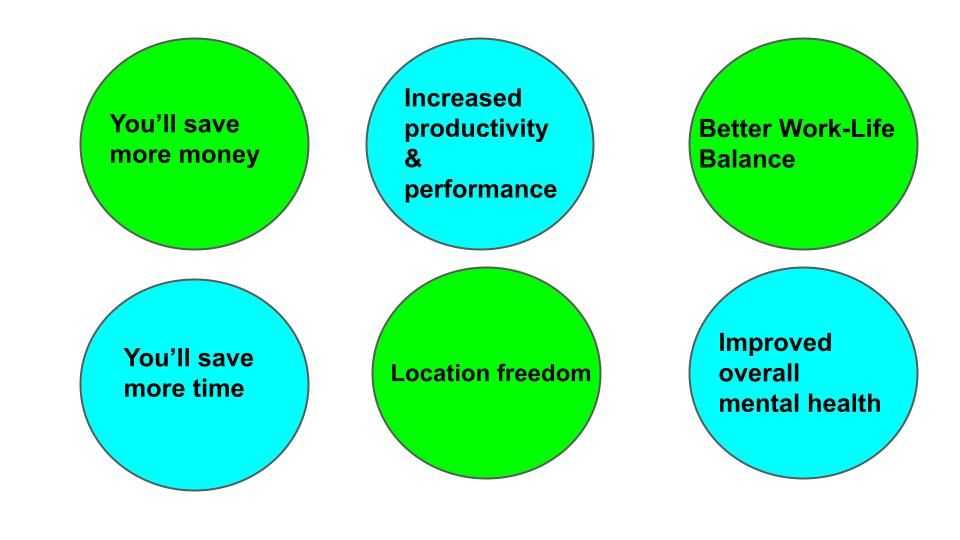 The types of work from home jobs available
Thanks to the advancement in technology and the internet, there are several types of work from home jobs available. You can choose to be a full-time or part-time remote worker that works for a specific company, a freelancer or an online business owner.
Full-time remote workers enjoy the same perks as those who work at an office. Examples would be having a reliable source of income every month, health insurance, and job security.
Freelancers on the other hand get the freedom to work whenever they feel like and take breaks whenever they want to as well as set their own rates. But they also have to pay for their own health insurance and set up their own office if they wish to have one.
There are several freelance jobs that one can do such as being a writer, social media manager, transcriptionist, digital marketer, etc. You can read about freelancing in detail in this article by Indeed.com.
To be able to work on any of the freelance jobs listed above, you'd need to develop the appropriate skill-set first and this could be done by signing up for classes, self-learning or by practicing.
However, there's something else that one can do without having any skills as long as they can speak and write in English at a native level. Keep reading and we'll get more into that later on as the article progresses.
Having an online business is also another work from home job that one can have. Examples of online businesses include, an online store where you sell physical products such as clothes, snacks, shoes, watches, etc. Another example of an online business is selling digital products such as eBooks, SaaS software, courses, financial planners, journals, etc.
Here's a list of additional freelance jobs and online businesses that you can start so that you can achieve your work from home dreams!
Tips for staying productive while working from home
It's already evident that people who work from home tend to be more productive than those working at the office. In fact, a study conducted by ConnectSolutions found that 77% of people who work remotely show increased productivity and 30% of them did more work in less time.
Even though you can be more productive while working from home, the number of distractions at home could be much higher than the ones at the office. According to Statista, the leading distractions among people working from home are social media by 61.6%, smartphones by 53.7%, binge-watching by 42.1%, followed by kids, gaming, news media, pets, online shopping and partners.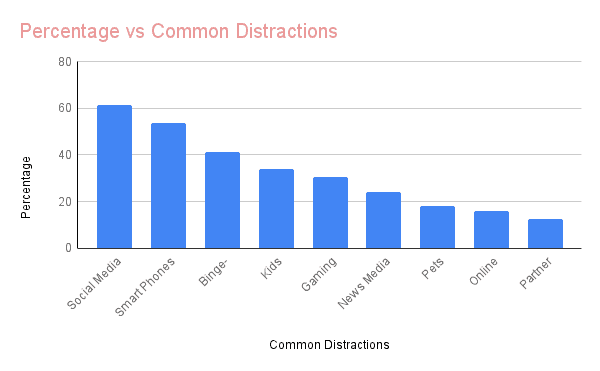 You don't need to worry though because with some discipline and planning, you can easily maintain your productivity and perhaps even increase it.
Here are some tips to help lessen distractions so that you can keep being your productive self throughout the day:
Write a to-do list to stay organized and focused on your tasks for the day.
Have a designated working area to create a sense of separation between work and home life.
Create a strategy for eliminating distractions, such as meal prepping to cut down on time taken to prepare meals, speak to your family about your work plans in advance, etc.
Take regular breaks to recharge and reconnect with nature by going for a walk.
Have specific office hours to maintain a healthy work-life balance and avoid burnout.
How to market yourself when working from home
When working from home, marketing yourself effectively can be a challenge. Without the face-to-face interactions that often come with a traditional office setting, it can be difficult to make connections and showcase your skills and abilities. However, with a little effort and creativity, you can still market yourself effectively while working from home.
First and foremost, make sure your online presence is strong. This includes having a professional-looking website or LinkedIn profile that highlights your experience and skills. Be sure to regularly update your profiles with any new accomplishments or skills you have acquired.
Another way to market yourself when working from home is to network online. Join relevant professional groups on sites like LinkedIn, Facebook, Reddit, etc and participate in online forums or discussions related to your industry. This will not only help you build your professional network, but it will also showcase your knowledge and expertise to potential clients or employers.
In addition to these online efforts, don't forget to continue networking in person as well. Attend industry conferences and events, and make an effort to connect with others in your field. This can help you build valuable connections and also showcase your expertise to potential clients or employers.
By building a strong online presence, networking online and in person, and creating and sharing relevant content, you can effectively market yourself and your skills while working from home.
How to find work from home jobs
Finding work from home jobs can be a challenge, but with the right approach, it is possible to find a job that allows you to work remotely.
One of the best ways to find work from home jobs is to search online job boards and websites. Many companies are now offering remote work options, and these job boards and websites are a great place to find listings for these positions. Some popular websites to search for remote work include Remotive, Remote.co, Working Nomads and We Work Remotely.
Another way to find work from home jobs is to network with others in your field. Attend industry events, join professional groups on LinkedIn, and reach out to others in your network to see if they know of any remote work opportunities. You never know who might be able to connect you with a potential employer or client.
Additionally, you may want to consider reaching out to companies directly to inquire about remote work opportunities. Many companies may not have advertised remote work positions, but may be open to the idea if an employee expresses interest. By reaching out to companies directly, you may be able to find opportunities that are not advertised elsewhere.
Finally, consider offering your services as a freelancer or consultant. This can be a great way to find work from home jobs, as you can offer your services to multiple clients and have the flexibility to work on your own schedule. Upwork and Fiverr are some of the most reputable freelance sites in the market right now but you can also use LinkedIn to find freelance opportunities.
Work From Home Job You Can Start Today!
At Chatwriters, we provide you with the opportunity to start working from home without the need to have any previous experience.
We're hiring freelance chat operators to answer messages. There are no limits to the topics of discussions and you can chat about anything and everything from weather, daily small talk, sports, world economics, to dreams and adult talk. You can use your mobile phone or laptop to chat and chat as much or as little as you want.
In addition to earning money while working from anywhere, you also get to know other people and learn about different topics through your chats with our clients. Our clients are mainly lonely people who are looking to have a safe and comfortable place to have entertaining conversations.
Everyone can work through Chatwriters. We do not discriminate or exclude. Everyone has access to a job that is not only easy to learn, but also offers a reliable payout. Everyone can work as much as they want, from wherever they want.
Even though you don't need to have any prior experience to join as a chat operator, we have a small list of general requirements to sign up:
You must be fluent in English
Must possess a smartphone and a PC
You must be open to work with adult content
You must be at least 18 years old
You must be able to send minimum number of messages per day
Once your application has been accepted, we will provide you with adequate training before you start working to ensure that you have a seamless experience while working as one of our chat operators.
The pay per message rate may vary depending on the time of day, holidays, traffic, etc. However, the platform is open 24 hours a day so you can happily chat whenever and wherever you feel like it. The rate per message varies, but can be up to € 0,20!
The signup process takes about 24 hours and we pay weekly! Sign up today and let's get you started on your work from home journey!
Final Thoughts
In conclusion, working from home has become increasingly popular in recent years due to its many benefits, including increased flexibility, improved work-life balance, and cost savings.
However, it's important to carefully consider the potential challenges and drawbacks of working from home, such as isolation and distractions, and to make sure you have the necessary tools and support to be successful.
Overall, with proper planning and preparation, working from home can be a rewarding and fulfilling experience for many individuals.
More blog posts
Work Online From Home | Find Remote Work - Chatwriters
Want to achieve freedom, flexibility and balance in your career? Working online from home might be for you! Read this guide to get started.
Read more
---
Work from Home For Students - Best Remote Jobs | Chatwriters
Are you looking for work that fits into your busy student life? Read this article to learn more about working remotely, with the best suitable jobs for students.
Read more
---
Best Work From Home Jobs For Introverts - 100% Remote | Chatwriters
Working from home can be the perfect fit for introverts. Discover the best work from home jobs for those with an introverted personality!
Read more
---
Work From Home For the Disabled - Jobs for Disabled | Chatwriters
Discover the different ways that disabled people can work from home, including remote jobs and other innovative solutions! Let's explore.
Read more
---
Work From Home For Hearing Impaired or Deaf | Chatwriters
Discover the many employment opportunities for hearing-impaired people with our comprehensive guide on working from home. Learn how you can make your dream career a reality!
Read more
---
One Shot Online Operators Ltd
Trust Company Complex, Ajeltake Road
Marshall Island

Copyright © Chatwriters.com 2020-2025
Privacy Notice