Guide to Working Online From Home: What You Need to Know
The advancement of technology has paved the way for jobs that can be performed within the comforts of one's home. There are a lot of job opportunities available online — whether you have lots of experience or not.
Industries that don't necessarily need on-site work, such as IT, digital marketing, and customer support service, benefit from hiring remote workers. With just a computer or a mobile phone, working from home offers advantages for both workers and employers.
Nowadays, more and more people prefer to work in the comfort of their homes, especially since the surge of the COVID-19 pandemic. In fact, according to Statista, safety was the number one reason why workers prefer to work from home, followed by quality of life, freedom, technology, and workspace.
Meanwhile, according to a survey by Buffer, 97.6% of employees would like to work remotely, at least some of the time, for the rest of their careers. What makes working from home a good career move? If you ever choose this career path, here's a guide to the most important things you need to know.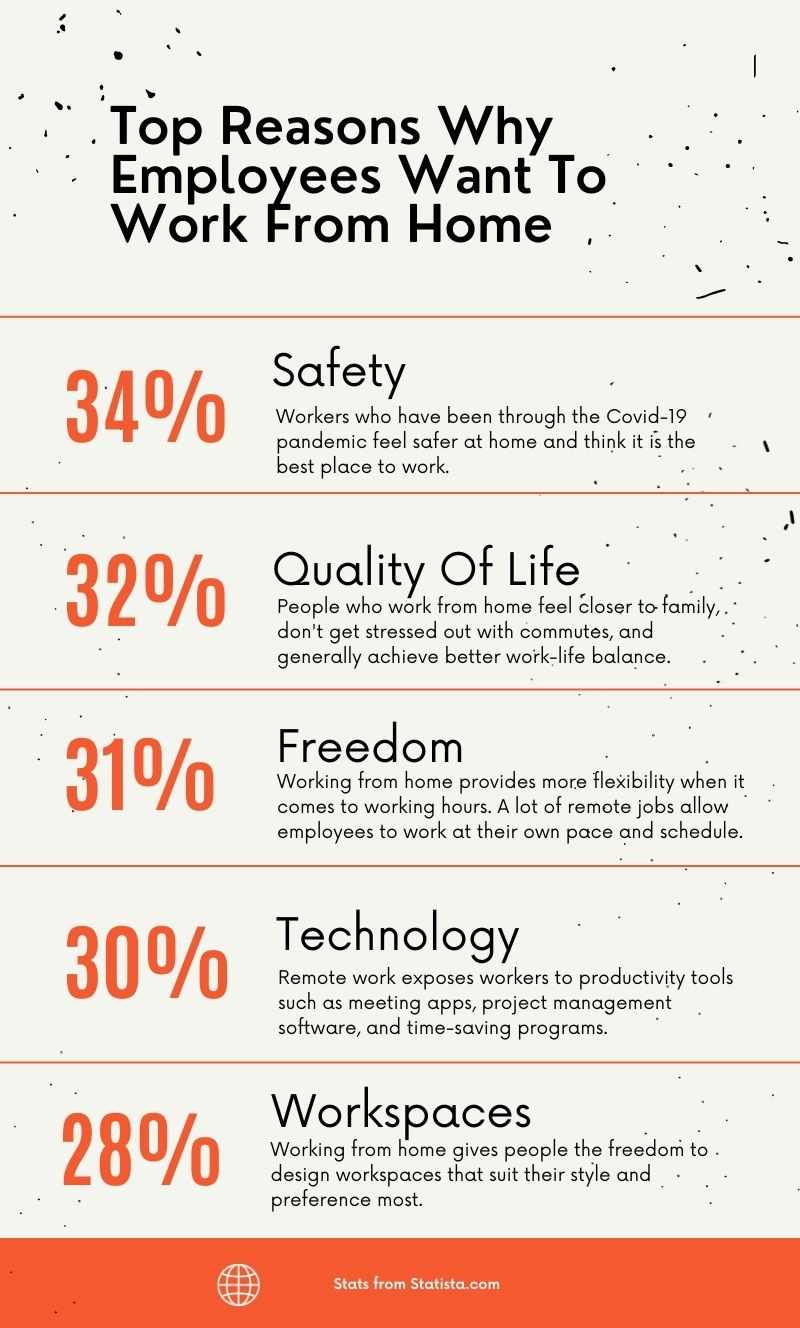 Benefits of Working Remotely Online
If you are a student, a person in-between jobs, or a stay-at-home parent, finding part-time or full-time remote work online can help you earn some money for your needs. With the vast opportunities online, working from home is an ideal set-up, and listed below are some of the reasons why:
You're Able To Manage Your Own Time
Most office set-ups conform to the idea of traditional morning shifts. By working remotely online, you can set your own schedule. So you can say goodbye to waking up early in the morning or staying late at night to finish your shift.
No Commutes
With online jobs, you can work from anywhere. You don't have to drive or commute every day to go to an office. That way, you can also save on gas or transportation costs. With no distance blocking your work, you can also accept clients everywhere around the globe.
Set Your Own Comfortable Space For Working
Your home can be the most comfortable place to work, especially if you have a dedicated workroom. One of the joys of working from home is you don't have to adjust to the workplace environment. If you enjoy playing music while working, you can do it. And if you want to eat something while working, the kitchen is just a few steps away. No one can dictate what you should and should not do.
Work Multiple Jobs Online
Since the internet can connect people anytime and anywhere, it can offer a lot of job opportunities. If you have a lot of sought-after skills such as graphic design, illustrating, writing, digital art, and communication, you can divide your time and take on multiple jobs as long as you can manage them properly.
Challenges in Remote Online Work
Even though there are a lot of benefits to working online from home, like any other, you can also experience some drawbacks when doing remote online work. Here are some of its challenges:
Working at Different Time Zones
Some remote work online caters to international clients with different time zones. So, it is vital to adjust to their time and finish the tasks according to their time. Sometimes, you even have to be available around the clock for urgent requests and submissions.
Less Social Interaction with Cog olleagues
When you do remote work, you tend to have fewer face-to-face interactions with colleagues. Most of the time, meetings only happen on video conferencing platforms. The collaboration with teammates is less personal, which does not establish a deeper relationship within the team.
If you prefer to have less social interaction in the workplace, good for you. But if you enjoy casual hangouts after work, the remote setting might be a bit more of a challenge.
Distractions at Home
Your home is one of the most comfortable places to work, but it can also be the number one contributor to distractions. Since you can easily access your phone, TV, the kitchen, and other stuff, these can distract you from doing your work.
Thus, self-discipline and a separate workroom are important to avoid getting distracted in the comfort of your home.
Guide to Setting Up Your Home Office
In doing remote work online, setting up your home office is a vital priority to make sure you can focus and be more productive. Follow the guide below to successfully set up your home office:
Use a separate room as your home office to avoid distractions. This could free your thoughts from any distractions inside your home. You can even soundproof your room with acoustic foams.
Invest in a good computer. Usually, you need a good laptop/PC to do your tasks, especially software-dependent ones. It can be a good investment that can increase your productivity and efficiency in finishing your work.
Purchase an ergonomic chair and computer accessories. As you face your laptop/PC for several hours each day, you need an ergonomic chair to prevent body aches. Moreover, you also need a computer keyboard, mouse, and other accessories that may increase work efficiency.
Maximize natural light and adequate lighting. Lighting is an essential aspect of your workspace since adequate lighting makes your work more efficient with fewer mistakes. Moreover, you should maximize natural lighting, morning or evening, to improve mood, energy, alertness, and productivity, according to an article by UNC Kenan-Flagler Business School.
Productivity Tips For Remote Working
Unlike the traditional working set-up where systems are placed for the employees to follow, remote working requires self-control and working habits so that you can finish your work on time and with high quality.
So here are some productivity tips for remote working:
Manage your time well and make to-do lists to organize tasks.

Designate a time for checking and responding to emails.

If your work is in the morning, wake up as early as possible to finish more tasks at the end of the day.

Do the most important or the most manageable tasks first before proceeding to complicated or time-consuming work.

Schedule your day while considering the schedule of your family members.

To avoid distractions, use software or apps that could block unnecessary sites.

Maximize productivity tools, such as Microsoft Teams and Slack.

Monitor your progress by setting daily or weekly goals.
How to Manage Work-Life Balance While Working Online
After reading some productivity tips for doing remote work online, the next thing you need to know is how to manage work-life balance. At some point, work can overwhelm you, and the last thing you want is to feel burned out.
So, here are some ways you can do to achieve the perfect balance between your work and personal life:
Take a short break in between tasks and designate a full day for rest or spending time with your loved ones.

Avoid doing too many tasks in a single day.

Schedule acceptable work hours and stick to that schedule.

Prioritize your physical, emotional, mental, and spiritual health.

Create plans or do some of your hobbies after work.

Eat healthily and make some time to take your loved ones to eat out.

Hang out with your workmates and nurture relationships.

Set healthy work boundaries.

Don't hesitate to ask for support from your workmates or family members when things are hard at work or in your personal life.
How to Market Yourself Online
The Internet has a wide market reach. Even though you have a broad range of opportunities here, it also means that you have a lot of competitors for remote work online. To guide you, here are some ways how to market yourself when working online:
Build up your portfolio
Your portfolio represents your qualifications, skills, education, training, and experiences in a certain field. Most employers online make sure to check your online portfolio to check your work and decide if you could be part of their team.
So, make time to build your portfolio and ensure that it can leave a great impact on potential employers online.
Set up Your LinkedIn Profile
As the leading professional network on the internet, LinkedIn can help you find potential clients online and build professional relationships to succeed in your chosen field. To optimize your LinkedIn profile, follow these steps:
Upload a professional-looking photo.

Write an attention-seeking headline.

Include your location.

Customize your profile URL with your full name.

Highlight your work experience by pinning relevant content in the featured work section.

Put your education and relevant work experiences in your profile.

List down your accomplishments, interests, and volunteer experiences.
Maximize Social Media Platforms
Since most people are now on social media platforms, such as Facebook, Tiktok, Instagram, and YouTube, you can maximize these platforms to get clients.
For instance, if you are a digital art illustrator, you can post your artwork on Instagram and Tiktok to start conversations with potential clients. Moreover, if you are a video content creator, Facebook and YouTube are great platforms to share your work.
5 Tips to Find Remote Work Opportunities
Once you have decided to try doing remote work online, you may not know where and how to begin. So here are 5 tips to find remote work opportunities.
Visit freelancing websites. There are a lot of freelancing websites that offer online jobs whether you have experience or none. Some of these websites are Upwork, Freelancer.com, Toptal, We Work Remotely, and SimplyHired.
Search hiring company websites. Some companies open their doors to work-from-home set-ups. You can search for a company that offers opportunities related to your degree or skills and see if they are presently hiring for remote roles.
Create a resume that stands out. If you have found a remote work opportunity, the next step is to impress them with your resume. Make sure that your resume is concise and free from errors. Employers will only need a minute or two to scan a resume, so make it stand out from others by being creative yet professional.
Get online training and certifications. Improving your skills and learning new things can be your edge over other remote work applicants. So take time to get online training related to the job you want and collect skill certifications.
Enhance your written and verbal communication skills. No matter what job it is, written and verbal communication skills are important parts of a job, especially when dealing with client requests. So continue to improve these skills to widen your opportunities online.
Chatwriters: Work as a Chat Operator Even Without Experience
One of the opportunities online is to be a chat operator for Chatwriters.
We offer a job that's open to everyone. An equal playing field for everyone that wants to work. Part time or full time, one hour or 10 hours a day, all is possible. The job on offer: answering messages as a chat operator.
Chatwriters is an online chat company where you respond to client messages – no matter what kind. By working as a chat operator through Chatwriters, you can help lonely people and talk about anything under the sun.
At Chatwriters, you get paid for every message you answer. No matter where you are or what time it is, you can earn with just a computer or a mobile phone.
If you are fluent in English, at least 18 years of age, have a device for chatting and can send a minimum number of messages per week, then you are the one Chatwriters is looking for. Don't hesitate to apply at Chatwriters now.
Pros and Cons of Telecommuting
As the world continues to depend on technology, telecommuting or work-from-home arrangements through the use of the internet, phone, or email have become the source of income for some people. If you are also interested in telecommuting, here are its pros and cons that you should be aware of:
Pros
Flexible working hours

Work anytime or anywhere

Better control of your schedule and tasks

No need to spend on transportation costs

Work at your own pace

Accept multiple jobs online

Better work-life balance
Cons
More distractions at home

Less personal interaction with workmates

Might adjust to a different time zone

Lack of team spirit and collaboration

Possibility of an unworkable home office environment
Work in the Comfort of Your Own Home że
Most people want to have better control of their time. Telecommuting is the future, especially in industries that rely on a computer and the internet to finish business processes.
Work-from-home arrangements allow you to work flexible hours and be easily accessible to your loved ones at home. With this article guide about remote online work, hopefully, you can find remote work online and start to have the better work-life balance you always deserve.

Join Chatwriters now and become part of our team of freelance remote chat operators!
Become a US Chatwriter today, work from anywhere!
Chatwriters offers you a golden opportunity to make some dough right from the comfort of your own home! We're inviting you to be a part of our American team of freelance chat operators—earn up to ~$0.23 (€0.20) for every message you send!
More blog posts